THE CONSOLE, TAPE MACHINES, MICROPHONES AND EVERYTHING ELSE
Soundtracs Solitaire 40 channel automated mix
40 channels Assigned Dynamics Processing
2 Alesis HD24 harddisk recorder
3 ADAT XT 24 digital tracks
2 Tascam MSR 24 analogue tracks w/ Dolby S (machines can be linked)
Dynaudio 6 BMA monitors
Tannoy monitors
TL Audio Pentode tube amplifier
TL 2X EL Distessor british mode
Manley Elop hot tube compressor
Antares autotuner (getting dusty, but if you really want to…)
SR Technology hot module (8 tube channels)
Lexicon 5 reverb units (80's lxp's)
Line 6 Echo Pro (vintage delay)
Line 6 POD (16 amps, 16 effects, 16 cabs – for effects on drums and vocals, not used for guitar sounds)
Line 6 Bass POD
TC Electronics Finalizer 96K multiband mastering-device
Alesis Masterlink (for mastering on CD-R)
Sony DAT recorder
2 vintage tape delays
Various digital tape delays
Microphones:
Neumann U87
AKG 414 (2x)
Royer 121
OktaVIA M12 (3x)
AKG D112 (2x)
Audix D6
Rode NT 1000 (2x)
Shure SM57 (5x)
Shure SM58 (5x)
Sennheisers, AT's, Green Bullets, PZM's, etc. etc.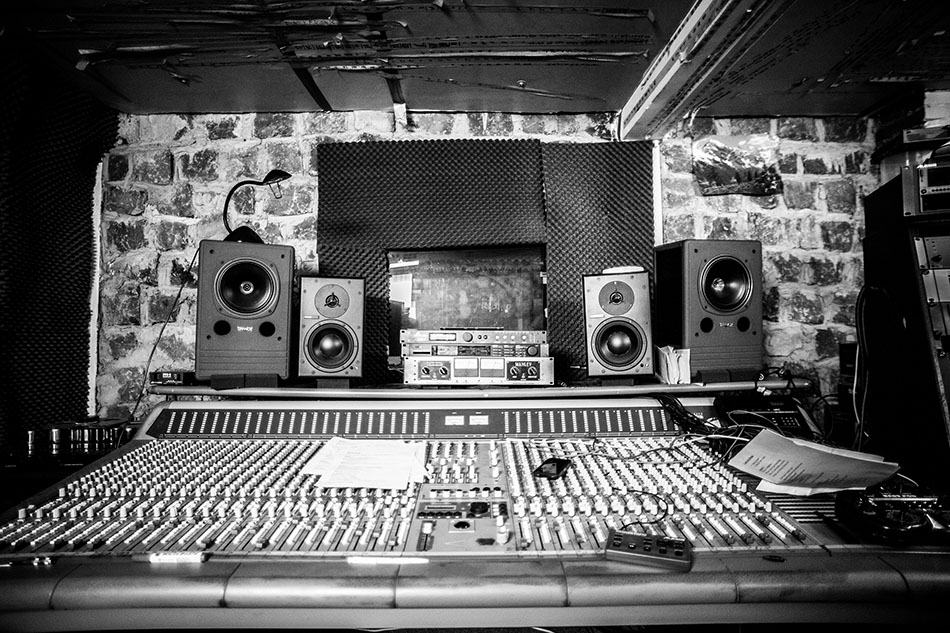 AMPLIFIERS
Fender Showmaster 2×18 (Chuck Berry, Twaaang de max)
Fender Blues-Deluxe  reissue (Ebo Z)
Mesa Engineering Dual Rectifier solo head + cabinet
Marshall JMP amp + cabinet 4×4 Celestion G12-65
Marshall JTM amp
Marshall Master Lead Combo (transistor)
London City MKV ( STILL IN REPAIR) + cabinet
London City Reverb Hundred model
Gallian-Krucher 800RB bass amp
Faylon Studio 2
+ several smaller amps: Epiphone, Dean Markley, LEM, Trace Eliott MK5, etc.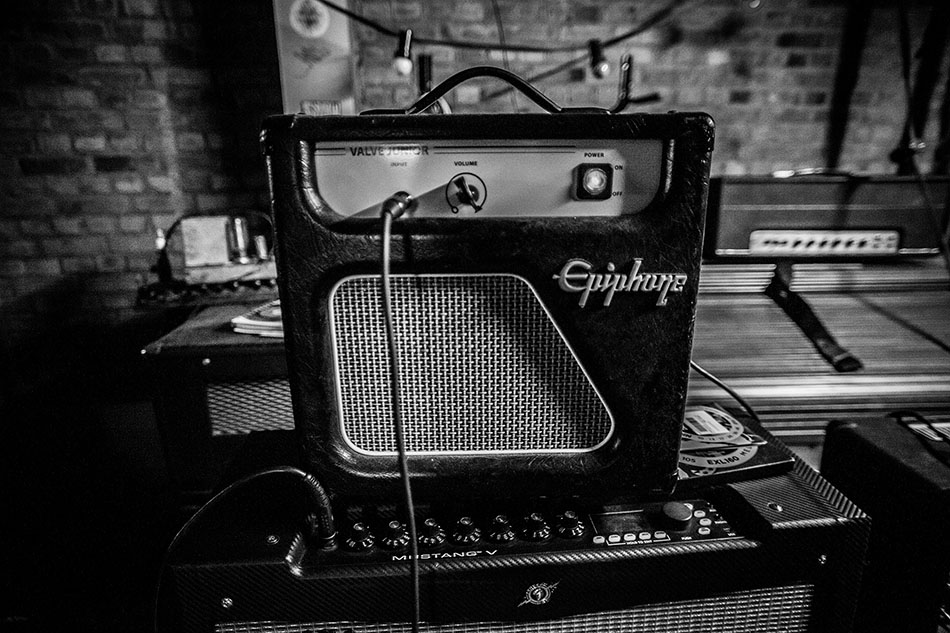 GUITARS
Gibson SG 1969
Gibson Les Paul
Hagstrom 1967
Fender Telecaster
Landola acoustic guitar
Aria Nashville tuning
Danelectro retro guitar
Martin D-1
DRUMS
Ludwig Black Beauty 6.5″
Slingerland drumkit
Remo deep snare
Beverly snare
Zildjian cymbals
KEYS
Hammond organ + Leslie speaker (in repair)
Elka electronic organ / synth
Farfisa TS series
Bontempi Aldi series
HUGE COLLECTION OF TOYS
Flanger Hoax distortions
Big Muff
Fuzzboxes
Talking pedal
Wahwah
Rat
Tubescreamer
Wobulator
E-bow
Shakers
Tambourines
Cowbells
Christmass bells
Washboard
Castagnettes
Etc.
Etc.